I am always on the look out to find new pocket diapers to add to my stash! You guys know me, I *heart* my pocket diapers! They are always my go-to diaper that I can over stuff and count on to be leak free. I guess they should be leak free when I stuff 3-4 inserts in them huh? Ha!!
I came upon this website a few weeks ago and fell in love with this little picture!!! Doesn't this just melt a mommy's (or daddy's) heart?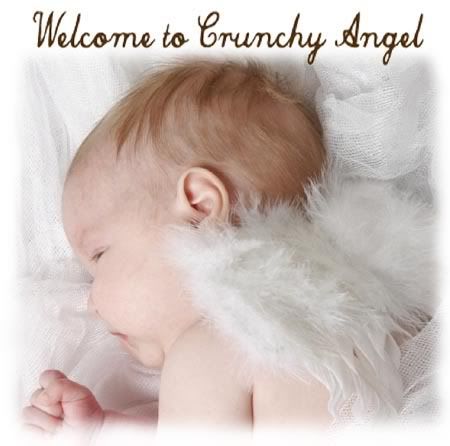 Wendy over at Crunchy Angel has done an awesome job with her website and has some great "green" products for your every need!! She sells:
Included in her diaper section are Mommy's Touch Diapers (Pocket and AIO) and Budget Bottoms! Of course I gravitated towards the pocket diaper link and found the
Mommy's Touch Hook and Loop pocket diaper! I have a friend that swears by Mommy's Touch, so I wanted to see what these were all about!!
Here are some great facts about the Mommy's Touch Diaper that I found awesome -- see my comments in the

parenthesis

!!!
Generous pocket opening for insert (it is VERY generous!)
Color Matched Touchtape on Front an Industry First! (blends right in)
Super Soft Non Irritating loop tape on Inside is inset so that no edges are exposed to the skin (very soft)

Crossover tabs for

adjustability (sweetness!)
Top stitching for durability
Custom milled fleece keeps baby dry (super super soft)
Mini-gussets help hold in the messiest of messes (elastic is tight, which is awesome to prevent messes and leaks)
Waterproof outer layer in many colors and prints
Laundry tab is split to help it stay closed in the wash (my fav laundry tab of all my pockets!)
Easy Clean Opening allows for soiled insert to come out in the wash (another awesome perk)
Here is a great picture showing all the features ...
An excellent picture to help adjust to the smaller setting. I know it seems confusing, but when you get your dipe, you will quickly understand!
Here are a few pictures I took of the diaper ....
Check out the laundry tabs ... they close and stay closed to prevent dryer diaper chains! HA!
Ready to go on ...
Nice size insert and the biggest setting really will fit a bigger kid! Some
of the pockets really have a hard time stretching to fit 30+lbs! (Believe me, I know first hand! HA!)
A picture of both openings ... the bottom pocket is very large so the inserts are sure to come out in the laundry ... another perk ... you don't have to touch anything ... just toss into your diaper pail!
MY REVIEW:
I have been really impressed with this pocket diaper. The fleece lining is so super soft (soft than most of my other pockets), which is really great for Sophia's sensitive bum! I love love love the giant holes for stuffing. Nothing is harder than fighting with multiple inserts at a time to get them in the diaper just right to prevent leaks. The larger holes allow for quick and easy stuffing! Since Sophia is too big for the smaller setting, I will be anxious to try it on the next baby in a few years (Lord-willing). The laundry tabs are my favorite of all the pocket diapers I own with velcro. They stay shut which is necessary to prevent diaper chains!! Each diaper only comes with 1 insert, which for Sophia, is not enough. Thankfully, I have enough inserts that I can put in another 1 or 2 for extra absorption. I know others don't have heavy wetters like mine, but it is something to consider when purchasing diapers! You gotta have extra inserts if you need optimal absorption!
Finally, the customer service at Crunchy Angel is WONDERFUL!! I am a big customer service person, so if I am not impressed with that, I have a hard time enjoying the products and recommending them to my faithful readers!!
I hope you will head over to
Crunchy Angel
and check out her products! I promise, you won't be disappointed by her excellent service and quality products!!
BUY IT: HERE
WIN IT: Wendy has most graciously offered ONE very lucky Go Long! Go Green! reader a Mommy's Touch Hook and Loop Pocket Diaper in the color of their choice!
Links you will find helpful for the giveaway:
Go Green Go Long
on Facebook
SGsMama
on Twitter
CrunchyAngel.com
This giveaway is open to the U.S. and will end on Sunday January 9, 2011 at midnight. The winner will be drawn via random.org and will have 48 hours to respond or another winner will be drawn. Please, no PO Boxes.
Disclaimer: I received this product free of charge. All thoughts and opinions are my own. I was not monetarily compensated for this review.