.... that tonight's gonna be a good-good night ...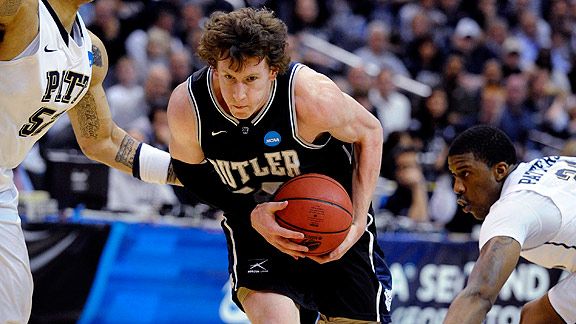 In addition to the BEP's song, this fight song has been going through my head all week long! I get so fired up singing it!!
Butler War Song
We'll sing the Butler war song,
We'll give a fighting cry;
We'll fight the Butler battle--
And in the glow of the victory firelight,
For Butler's fighting crew
My friends over at Espn FINALLY figured it out ... well, most of them did! Go Dawgs!
Brennan: First of all, I have no idea: After this NCAA tournament, editors should never be allowed to ask their writers for predictions again. But because that's less likely than a VCU Final Four run, I'll take Butler. I think Brad Stevens will have a coherent plan for stopping, or at least slowing, Kemba Walker and the Huskies, and I think that plan will be simple enough for the Bulldogs to carry it through with supreme confidence. It'll be a close one -- you'd better believe Kemba's not going out without a fight -- but in the end, Butler seals this magical two-year run with a Disney finish.
Forde: Butler wins 65-60. Because the Bulldogs will hit timely 3-pointers. Because they'll never lose their poise or get rattled. Because they'll battle inside to neutralize any disadvantage on the boards. Because they'll guard as though their lives depend on it. And because they're driven, determined and due to finish off a story for the ages.
Katz: Butler. Kentucky defended the Huskies well, but they made a few winning plays. Butler may do an even tougher job on the Huskies, even though the Bulldogs struggle to score at times. Their toughness, their ability to make winning plays and, let's face it, the unbelievable karma that is flowing toward them at this juncture make it hard to pick against this team. This is not a David versus Goliath situation; Butler is hardly an underdog. The Bulldogs have as many NBA-caliber players on their roster as the Huskies. They are also the more experienced team in this moment and won't be fazed. They have earned an incredible second chance to win a title with a collection of players who were one shot off a year ago. I don't think they'll let this moment pass.
Leung: Sorry, the underdogs will have to wait for at least another year. I think Connecticut, behind Kemba Walker's scoring and Alex Oriakhi's ability to control the paint, will win this one. The Huskies should have what it takes to contain Shelvin Mack and neutralize Matt Howard. That doesn't mean the game won't be close, but I think UConn will pull it out in the end.
O'Neil: Butler will win for the same reason it has won each of its past five games: its defense. Connecticut knows of tough thanks to playing in the brutal Big East, but the Huskies looked tired to me -- Kemba Walker admitted he was gassed waiting for the final media timeout against Kentucky -- and handling the relentless tenacity of the Bulldogs will be too much for the Huskies.
Anyone know what Charles Barkley is saying today? Probably that UCONN will win b/c he ALWAYS roots against Butler then has to eat his words! Oh well ... get ready to eat them again Charles!!
GO DAWGS!! Tip 9:23pm EST! Be there!!