This is a Sponsored post written by me on behalf of White Cloud for SocialSpark. All opinions are 100% mine.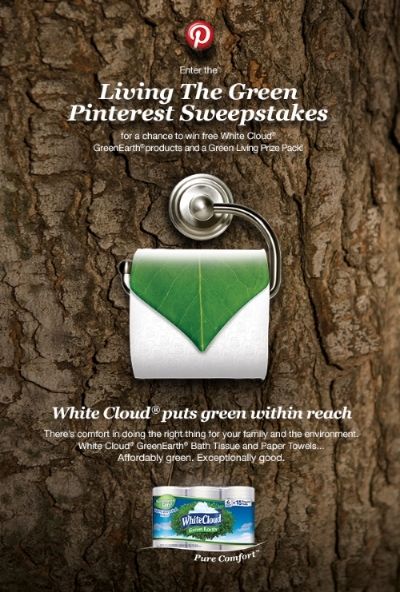 Go Long!  Go Green!  My blog is very appropriately named due to my LOVE for the environment!   I love doing my part to be responsible with the blessings I have been given!  I cloth diaper (it really isn't gross, PROMISE!), recycle everything that can be recycled, we are teaching our children to turn off the light switches when we aren't in the room and to turn the water off while they brush their teeth, compost, we purchase eco-friendly household products, and we try our best to limit our trash for the week to just ONE bag!!  
You could call my love to be GREEN an obsession!  (Ha!)  I recycle ever single coloring page of my daughter's when she is done with them or they end up misplaced around the house!  Sophia says, "Mom, why did you recycle this?  I am not finished with it yet!"  Ha!!  She is starting to tell her friends and teachers (at the Y), "My mom recycles all my coloring pages I color here!  Ughhh!"  It is hilarious!  Folks, we seriously go through 4+ coloring pages/day!
You can find out more
HERE
!
How do you help out the environment, if at all?   It can be so easy to simply start by saving all your newspapers, adds, misc junk mail and recycle it in those awesome GREEN recycle boxes located EVERYWHERE!  I can think of at least 4 spots within 3 miles of my house!!  Regardless of how you help, I know it feels good to help!
Another way to help celebrate these moments of environmental responsibility and encourage everyone to keep "Living the Green": The White Cloud GreenEarth product line!
White Cloud is a paper-product brand carried exclusively at Walmart. 
Find a Store Near You!
 GreenEarth is the innovative, eco-friendly line of White Cloud products (bath tissue and paper towels), made from 100 percent recycled fibers.  With GreenEarth, there is no compromise and it puts green within reach.  GreenEarth products maintain the highest standards of quality while still remaining affordable.  All GreenEarth® products maintain a Forest Stewardship Council certification. "Living the Green" doesn't have to mean breaking the bank or sacrificing quality.
Are you on Pinterest?  Check out the awesome White Cloud "Living the Green" Pinterest board!  You will find it full of green living tips and ideas!  Check it out
HERE
! 
Are you ready for some more exciting news? 
You can enter to win White Cloud's Pin it to Win it "Living the Green Sweepstakes
3.
Repin at least one Pin from the White Cloud "Living the Green" board to their board and include the hashtag #LivingTheGreen in the pin's caption  
4.
Visit mywhitecloud.com/promotions and complete the sweepstakes entry form
After reading this blog post, what one thing can you and your family do to help protect the environment?